Company Information General use magnesium oxide partition walls for office
Shandong Lanchuang Economy and Trade Co., Ltd. was founded in 2012. We focus on MgO board business. We are the export agent of China Magnesite & Material Association, and the buying agent of Magnesium Oxide Cement Association(MOCA). We are a member company of Shandong Fairyland Infrastructure Group.Shandong Fairyland Infrastructure Group Co.,Ltd. has a history of 27 years in real estate development business. General use magnesium oxide partition walls for office and home
In recent years,Shandong Lanchuang has organized our CMMA members to investigate the foreign markets in the US,Canada,Australia,Germany,Sweden and Japan,and has been connected with the governments,counterpart associations,research institutes and importing enterprises in these areas.At present,Lanchuang has established good economic and trade contacts with the US,Canada,Australia,Japan and Germany,and exported the products to some of the above regions. It has accumulated a high reputation and has been widely praised by the domestic and international circles.
Factory Inspection Report

Product name

12mm MGO Board

Date of manufacture

2020.10.7

Specification type

12mm

Ambient temperature

28

Date of testing

2020/10/15

Sample quantity

4

Testing items

test method

Eligibility criteria

Company criteria

Test determination

Density

GB/T 33544-2017

≥1.1

≥1.1

1.12g/cm3

Flexural strength (Machine direction)

GB/T 33544-2017

≥8Mpa

≥20Mpa

24Mpa;29Mpa

Flexural strength (Cross-machine direction)

GB/T 33544-2017

≥8Mpa

≥20Mpa

22Mpa;27Mpa

Screw holding force

GB/T 33544-2017

≥35N/mm

≥55N/mm

123

Water absorption

GB/T 33544-2017

≤20%

≤20%

13.5%

Moisture content

GB/T 33544-2017

≤8%

≤5%

5.90%

Chloride ion

GB/T 33544-2017

≤5%

≤3.5%

3.02%

Thickness expansion rate of water absorption

GB/T 33544-2017

≤0.3%

<0.1%

<0.1%

Thickness deviation

GB/T 33544-2017

±0.5mm

<±0.3mm

<0.3mm

Length deviation

GB/T 33544-2017

±2mm

<±1mm

<1mm

Width error

GB/T 33544-2017

±2mm

<±1mm

<1mm

Diagonal error

GB/T 33544-2017

≤5

<±2mm

<2mm
• Green choice • Empowering
• Sustainable • Living Underlayer Panels
Our products are highly energy efficient, non-toxic, and mould- and asbestos-free. Moreover, they are 100 per cent recyclable and they have a low carbon-footprint. Thanks to these "green" features, our products contribute directly to the sustainability of any project in which they are used.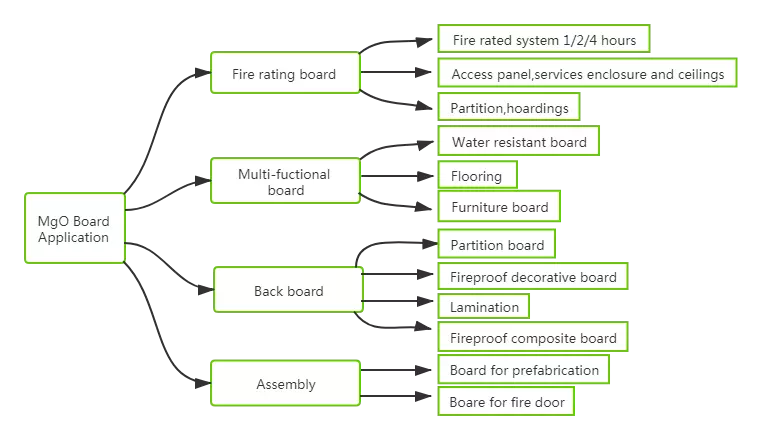 Storage and handling
• It is the responsibility of the builder to ensure that the product meets aesthetic requirements before installation.
• Ensure that all boards are stored under cover and kept dry. If boards become wet they must be dried prior to installation.
• Our Factory will not be responsible for rectifying obvious aesthetic surface variations following installation.
• Carry boards in the vertical position as this will avoid bending and possible breakage.
• MGO Premium boards must be stored flat on a smooth surface. Precaution should be taken that edges and corners.

Packing and Shipment
1.Strong plywood pallet 2.Strapped with PET rope
3.Protect corner & edges 4.PE film covered on the 6 surfaces


Product Description
MgO board is a strong, high quality, fire-proof, mineral-based building material used to replace plywood, fiber cement panels, OSB and gypsum wallboards. It is an extremely versatile product for use with interior and exterior construction. It is mading from bonding certain elements (including magnesium and oxygen) which results in an extremely strong cement-like material. Similar compounds have been used for construction purposes for hundreds of years in such world-famous sites such as the Great Wall of China, Rome's Pantheon, and extensively throughout one of the world's tallest buildings, Taipei 101.

Production process: no industrial "three wastes", no toxic substance discharge.
Finished products: fire resistance, high temperature resistance, no release of toxic substances, fully environmentally friendly products, superior performance.
Product display
Lightweight energy-saving composite wall panels, floors, fireproof decorative panels, exterior wall hanging panels, anti-corrosion insulation tiles, magnesium oxide flat panels, Magnesium Oxysulfate sanded panels, etc.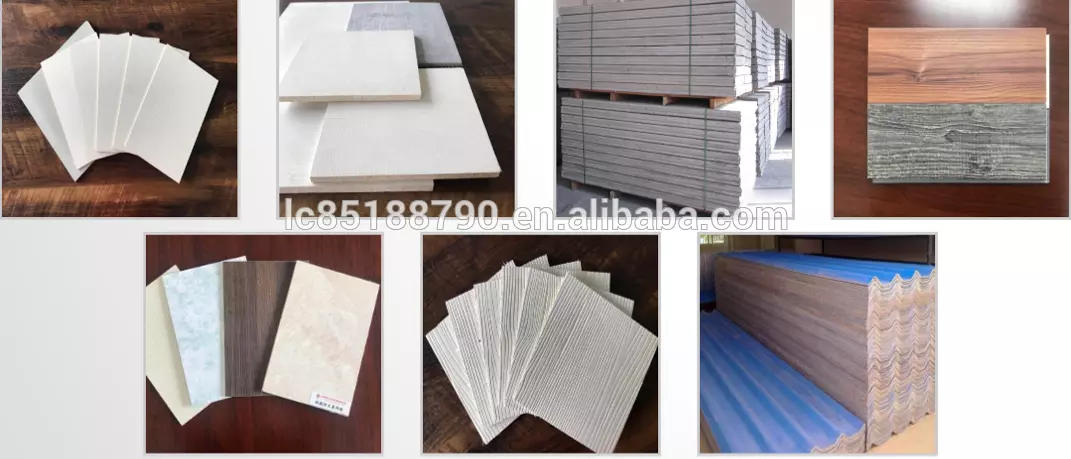 Contact Us Right Now Freely !
Shandong Lanchuang Economy & Trade Co.,Ltd.
Add:Rm314,#1Building,Yiqu,Liangzhuangxinqu,Jianshe Road,Jinan,Shandong,China.
Office Tell:+86 0531 85188790 Fax:+86 0531 85188391
Whatsapp/wechat: +86 18754133238(Linjing Zhao) +86 18264133237(Amy Zhang)
Email: info at sdlceat.com